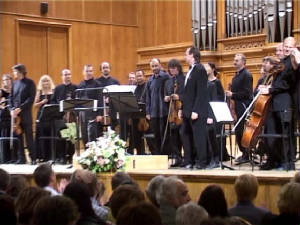 with Yuri Bashmet, premiere of "Surgite Gloriae"
undefined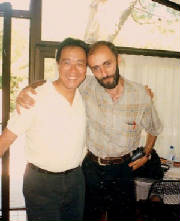 with Yo-Yo Ma, after the premiere of "morning scent of acacias' song"
You hear now Vache Sharafyan: "Adumbrations of the Peacock" for violin, viola, cello & piano (extract), Apple Hill Chamber Players, Zipper Hall, LA
theStrad
May 2012
...use of harmonic clusters colors Vache Sharafyan's Suite, which with its ingenious allusions to the harmonic patterns and dance forms of the Baroque travels through a kaleidoscope of iridescent timbres...

Equally enthralling is Sharafyan's arrangement of Komitas's Krunk (Crane) for duduk, piano and cello. As in the Suite, tonally conventional elements co-exist with the oscillating pitches and clusters of Sharafyan's harmonic language to magical effect.
By STEVE SMITH

Published: December 19, 2011 (after the concert played by Colin Jacobsen, Nick Cords, Edward Arron, Andrew Armstrong at Metropolitan Museum of Arts in New York)

.... And all of the string players confidently handled unconventional intonation in Mr. Sharafyan's

"Adumbrations of the Peacock,"

a stark, mysterious and ultimately majestic concatenation of broken-bell piano chords, tremulous melodies and quivering textures.




THE BOSTON GLOBE In season finale, BMOP charts the Armenian experience; by By Matthew Guerrieri Globe Correspondent / May 27, 2008

Vache Sharafyan's "Sinfonia No. 2 un poco concertante," a BMOP commission and world premiere, takes that essence as its starting point. Melodies erupt into dense, slow-shifting harmonic clouds; a repetitive figure builds into crashing waves of multitudinous, Ivesian dissonance. A solo duduk, the Armenian folk oboe (pre-recorded for this concert), spins periodic arabesques, the instrument's microtonal inflections transmuted in the orchestra. Sharafyan creates complex, deliberate, ultimately captivating grandeur - artistic director Gil Rose led a terrific, vivid performance.




Music review, The Silk Road Ensemble at Chicago Orchestra Hall

Wednesday, December 18, 2002, by John von Rhein, Chicago Tribune

..."But the most wonderful piece on the program was "The Sun, the Wine, and the Wind of Time" (1998) by the Armenian composer Vache Sharafyan. The score derived much of its ineffable sadness from the duduk, an oboe-like instrument whose quivery, throaty sounds were framed by piano (Joel Fan), violin (Colin Jacobsen) and cello (Yo-Yo Ma). The seamless evolution of moods and textures—from soft, somber lines made up of pained intervals, to more violent outbursts, back to mournful lines—made it entirely absorbing to the ear and mind..."

Music Review: New music group attains world-premiere nirvana

Monday, August 05, 2002 by David diAngelo, Pittsburgh Post Gazette




..."The evening's gem, though, was the Sharafyan. Without overtly referencing Vivaldi, this "Four Seasons" uses the calendar year as a metaphor for a circle of life. It began with "Summer" (with the performers bathed in harsh red lights) and cycled through death in "Winter" and rebirth in "Spring"....

Pittsburgh LiveBy Mark Kanny

TRIBUNE-REVIEW CLASSICAL MUSIC CRITIC
Monday, August 5, 2002

Vache Sharafyan's "The Four Seasons" was the significant world premiere, including Armenian poetry as a prelude to each of the four movements… Sharafyan's language includes remarkable solo writing ... The composer is not afraid of dissonance, and the furious intensity he achieves serves clear narrative intent, including real satisfaction. "The Four Seasons" required extra performers, including the first Pittsburgh residents to play with the group this season: violist Paul Silver and bassist John Moore from the Pittsburgh Symphony Orchestra and percussionist P.J. Gatch.




Salisbury Journal , REVIEW: The Hilliard Ensemble, 29th May 2013, by Sarah Collins

In the second half, the penultimate work by Vache Sharafyan had such an intensely spiritual quality, one could almost imagine the Hilliards wearing robes and living in a closed order while singing their sublime music.
Sharafyan's Music on YouTube(follow links bellow)
Sharafyan- Viola Concerto "Surgite Gloriae" with Yuri Bashmet & Moscow Soloists, cond. R. Balashov - 2
Sharafyan: Viola Concerto "Surgiet Gloriae" with Yuri Bashmet & Moscow Soloists FULL VERSION With Bashmet's Interview
Sharafyan: "My Lofty Moon", Atlas Ensemble cond. Ed Spanjaard, Amsterdam Muziekgebouw, 23. 01. 2007
Sharafyan: <Sun, Wine & Wind of Time> with Gevorg Dabaghyan, Colin Jacobsen, Yo-Yo Ma, Joel Fan
Sharafyan: <Canticum Dolorosum et Pacificum> with A. Demurchyan, Hover choir, Serenade chamber orchestra, cond. E. Topchjan
Sharafyan: "Offertorium" for solo clarinet, flute, trumpet, percussion, piano, violin, cello & c-bass
Sharafyan <Canticum Gratiosum> with Theo Bleckmann and MATA, cond. M. Ross
Born on February 11, 1966 in Yerevan, Armenia. In 1990 graduated with distinction from the Yerevan State Conservatory, Composition Department. In 1992 received Post-Graduate education in composition, class of Prof. E. Mirzoyan. Prise-Winner, All-Union Composers' Competition in Moscow (1985). Yo-Yo Ma's Silk Road Project Inc official composer since 2001, MATA composer 2005...

BMI Composer since 2002.

Publishers: G. SCHIRMER, BIM-Editions

In 1992-96 as a Professor of music theory and sacred music Vache Sharafyan worked in Jerusalem Theological Armenian Seminary (Israel). Authored a Book of Chants for Holy Sepulchre Church, Jerusalem.

As an official composer for the renowned Silk Road Project since 2001, Sharafyan's compositions "The Sun, the Wine and the Wind of Time" and "The Morning Scent of the Acacia's Song" were performed by cellist Yo-Yo Ma and the Silk Road Ensemble in Cologne Philharmonie, Brussels Philharmonie, Amsterdam's Concertgebow, in USA: Carnegie (Stern ) Hall, Carnegie (Zankel) Hall, Berkeley University, Stanford University, Seattle/ Benaroya Hall/, Washington National Mall, Chicago Symphony Orchestra Hall, in Italy: Rome, Florence, Milan., and other venues in USA and Europe.

In 1998 participated in 19th Bowling Green Festival of New Music and Arts (USA); in 1999 "Prima vista" and "Two days and two nights" Festivals in Odessa (Ukraine); in 2002 June in Buffalo Festival and PNME festival in Pittsburgh with world premiere of the "Four Seasons" for narrator and 12 performers (PNME with participation of Pittsburgh Symphony principal musicians, cond. Kevin Noe); in 2003 June in Buffalo Festival; in 2004 Hungarian Radio Festival and 25th Bowling Green Festival of New Music and Arts (USA);

Among Sharafyan's participated festivals in 2005-2007 are: in January 2005 Budapest Mini Festival; in March 2005 in Transcaucacian Festival of Modern Music in Georgia; Mansfield Symphony concert at Renaissance Theatre with premiering of Tenor Saxophone Concerto played by maestro James Houlik and cond. R. Franz, in July 2005 in Baroque festival in Yerevan; in September-October 2005 in MATA Festival in New York; In October 2005 in Festival "Perspectives XXI" in Armenia; in November 2005 in Festival Culturescapes in Switzerland; in February 2006 Icebreaker three: the Caucasus festival in Seattle (US); in March, 2006 in Contempo Music Series in Chicago; in March 2006 "Dilijan Chamber Music Concert Series" in Zipper Hall in Los Angeles; in May, 2006 in "Hommage a Bartok" concert series dedicated to Bartok's 125th anniversary in Budapest; in June 2006 in Caucasian Chamber Orchestra festival in Tbilisi, Georgia; June 2006 in Maverick Hall chamber music series in Woodstock, USA; in December 2006 in Estovest festival in Turin, Italy, in January 2007 in Atlas ensemble festival in Amsterdam Muziekgebouw ("world premiere of "My Lofty Moon" for 5 eastern and 8 western instruments with Atlas Ensemble, cond. Ed Spanjaard), in 2008 at Dilijan music series in Los Angeles, at Return festival in Yerevan, in 2009 at Homecoming festival in Moscow, PHAROS festival in Cyprus, National Gallery festival in Yerevan, Perspectives XXI festival.

Sharafyan's compositions were performed in Armenia, Israel, France, USA (including Carnegie Hall – Stern, Weill, Zankel, Chicago Symphony Hall, Seattle Benaroya Hall, Boston Jordan Hall, Metropolitan Museum of Arts in NY), Italy (including Teatro Pergola, Giuseppe Verdi Hall), Germany (including Berlin Philharmonic, Cologne Philharmonic Halls), Austria, Belgium, Holland (including Concertgebouw, Muziekgebouw), England, Ireland, Scotland, Canada, Ukraine, Russia (including Conservatory Grand Hall), Georgia, Lebanon, Thailand, Latvia, Spain, Hungary, Scotland, Cyprus, Taiwan, Mexico, Switzerland, Sweden, Japan and Iceland.

Nominated to "Civitella Ranieri Fellowship" in 2006, Italy.

Guest professor on Armenian music studies at University of California Los Angeles (UCLA) for one semester in 2011.




Bogliasco Fellowship in 2013 , Italy; (completing of "The Another Moon" ballet of sacred gestures)

Among Sharafyan's 2007 premiers are:
Viola Concerto "Surgite Gloriae" with duduk, discant, baritone, and orchestra (French horn, bell, strings) with Yuri Bashmet and ensemble "Moscow Soloists" (cond. R. Balashov) at Elba Isola Musicale Festival on September 4, as well as in Moscow Conservatory Grand Hall philharmonics seasson opening on September 19.
"Quintetto quasi Concerto per pianoforte e archi" at Zipper Hall in Los Angeles chamber music series season opening (M. Pogossian, A. Baltayan, B. Dembow, P. Stumpf, V. Sharafyan) on September 15,
"My Lofty Moon" for 5 eastern and 8 western instruments played by Atlas Ensmeble at Amsterdam Muziekgebouw on January 23 (cond. Ed Spanjaard),
"Folk tunes arrangements & transcriptions by Komitas" played by NCOA and G. Dabaghayn at Thearte du Chatelet in Paris (cond. A. Gharabekian) .
Among 2008 premiers are:
"Sinfonia 2 un poco Concertante" with Boston Modern Orchestra Project, cond. Gil Rose on May 23 at Jordan Hall in Boston (Meet the Composer).
Cello Concerto with string orchestra with Suren Bagratuni and NCOA (cond. A.Gharabekian) at Komitas Chamber Music hall in Yerevan on May 31.
recording of "Lacrymosa" for solo cello, descant, soprano, mix choir and symphony orchestra for the movie "Maestro" (prod. Vigen Chaldranyan) with the Armenian Philharmonic Orchestra & "Hover" choir (cond. Edward Topchjan) on October 26.
Among 2009 world premieres are:
"Canticum Dolorosum et Pacificum" for soprano, mix choir and orchestra (trumpet, bass drum, piano, strings) with Artsvik Demurchyan, Hover choir, Serenade chamber orchestra, APO soloists cond. Eduard Topchjan on June 2 (Chamber Music Hall after Komitas).
Vi-O-La 1 for solo viola (commissioned by Maxim Novikov)
2010 premieres include:
Verses for violin and vibraphone, Movses Pogossian & Kuniko Kato, Zipper Hall, Los Angeles
"Waterfall music" for choir, Hover Choir, Pollyfolia, France
Stanza for harp, Valentina Borisova, Moscow
Recording of Suite for cello and orchestra on BIS records (Sweden), Alexander Chaushian and Serenade Chamber Orchestra, cond. Eduard Topchjan
Sinfonia 2 un poco Concertante (BMOP commission) Italian premiere with Orchestra Sinfonica Siciliana, cond. Karen Durgaryan
Completing of opera "King Abgar" (2 acts, 7 scenes, 2 hours)



2011 premieres include:
"Have Mercy on me, O God" for tenor and string quartet commissioned by Soli Deo Gloria and "look lovingly mercyful Father" (Daniel Plaster, Varty Manuelian, Movses Pogossina, Guillaume Sutre, Gina Coletti, Vardan Gasparyan);
Vi-O-La n.2 with Maxim Novikov;
CON-COR-D-ANCE 2nd Violin Concerto and Burlesca with Karen Shakhgaldyan and Gubernatorial Orchestra of Irkutsk Philharmony, cond. Ilmar Lapinsh;
Burlesca for violin and orchestra
"Bridge Music" with Terem quartet and G. Dabaghyan;
"Snow Cantata" for mix choir, baritone and organ with Hover Chamber Choir...



2012 world premieres include:
"Once in a beautiful meadow" for ensemble Zerafin, Amsterdam.
"Light-drop peals" version for clarinet and viola, Maxim Novikov & Andy Miles, Reinickend.-E.Reuter-Saal, Berlin.
"Esquisses Nostalgiques" for wind quintet and duduk/zurna commidssioned by Quintette a Vent de Marseille (Araik Bartikian duduk), Venelles, Aix en Provence France,
"Path towards this moment" for viola & organ , Maxim Novikov and Jevgenia Lisitsina, Riga Dome, Latvia
West cost premiere of "Have mercy on me , O God" with Scott Ramsay and Avalon string Quartet, Chicago
Recording of 2 hymns by the Hilliard Ensemble, CD "In search of miraculous" LCMS, to released in January
among commissioned/completed piece is also "Partita" for violin and piano (also version with orchestra) commissioned by Anne Akiko Meyers